Rabbi Elie and Miriam Schwartz (and their son Adir) spent two years as OU-JLIC Torah Educators at the University of Maryland. They are so excited to be joining the Penn community, to meet everyone, and are looking forward to a great year!
Miriam Schwartz is originally from Great Neck, NY. Miriam spent a year studying at Migdal Oz and attended Stern College for Women. She was a fellow at the Legacy Heritage Jewish Educators Project, a program that trains Jewish educators through courses in education, psychology and Judaic studies, as well as intensive fieldwork in classroom settings.  Miriam was an OU-JLIC Fellow at Queens College, and has taught Judaic Studies at the The Yeshivah of Flatbush High School and the Ida Crown Jewish Academy, where she was also the co-director of Student Activities. She completed her Masters in Jewish Education from the Azrieli School of Jewish Education and is still pursuing a masters in Bible at the Bernard Revel Graduate School of Jewish Studies.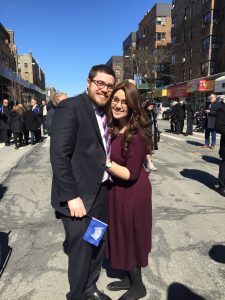 Miriam loves watching the West Wing and Shark Tank, reading, and cooking different ethnic cuisines. She also does Tai Chi and Yoga (and can sometimes convince Rabbi Schwartz to join her). Although she has Celiac disease, Miriam enjoys selflessly baking delicious glutenous desserts. It should also be known that she makes some of the world's greatest ghormeh sabzi, a special feat since although she grew up in Great Neck, Miriam isn't even Persian.
Rabbi Elie Schwartz is originally from Cleveland, OH, and a die-hard Cavs fan. Rabbi Schwartz spent two years studying at Yeshivat Sha'arei Mevaseret Zion and a third year at Yeshivat Keren B'Yavneh. After Israel, he attended Yeshiva University where he graduated cum laude with a BA in Philosophy. He then completed semikha at RIETS and completed his masters in Medieval Jewish History from the Bernard Revel Graduate School of Jewish Studies. He has served as the interim assistant Rabbi at Congregation Ohab Zedek on Manhattan's Upper West Side, and as an OU-JLIC Fellow at Queens College. For the past two years, he has been a Fellow of the YU Torah Mitzion Kollel in Chicago, where he has had the privilege to spend time furthering his learning while also creating innovative educational programming for the entire Jewish community, from running Thanksgiving programs for kindergartners to giving shiurim to senior citizens.
Rabbi Schwartz has many interests ranging from quantum physics to politics. In his spare time he enjoys reading and listening to podcasts at 2x speed, and is always looking to learn something new. He has a special place in his heart for Marvel movies, a good tisch, and the Dave Matthews Band (and hopes to continue his 11 year streak of going to a Dave concert at least once a year). He also loves basketball, and has played alongside friends who have gone on to play college ball. Rabbi Schwartz looks forward to both learning and getting on the court with the rising stars of the Penn community.